7 Top Student Loan Moments From the Past Decade
January 6, 2020
2019 has come to an end, which means it's the end of another decade. The past 10 years have been staggering in terms of changes to the student loan system. From 2010 through 2019, student loan debt reached an all-time high, new repayment plans were introduced, and the Department of Education cracked down on for-profit schools. Here are seven of the most significant student loan moments of the past decade.
1. The government introduces changes to income-driven repayment plans
Income-driven repayment (IDR) plans were first introduced in 1994. With an IDR plan, federal loan borrowers could reduce their monthly payments, making the payments more affordable. But over the past 10 years, the Department of Education made significant changes to IDR plans. 
Pay As You Earn:

In 2010, the government introduced Pay As You Earn (PAYE). Under this program, borrowers' payments would be capped at 10 percent of their discretionary income, and they would receive loan forgiveness after making payments for 20 years. 

Income-Based Repayment:

The government updated Income-Based Repayment (IBR) in 2014. With the new guidelines, borrowers would pay 10 percent of their discretionary income, and receive loan forgiveness after 20 years. Only available to borrowers who took out loans after July 1, 2014, the payments under the new IBR plan would never exceed what the payment would be under a 10-year Standard Repayment Plan. 

Revised Pay As You Earn:

The Department of Education launched Revised Pay As You Earn (REPAYE) in 2015. With REPAYE, borrowers' payments are limited to 10 percent of their discretionary income. For undergraduate borrowers, the loans would be forgiven after making payments for 20 years. For graduate borrowers, the loans would be forgiven after 25 years.
2. National default rate reaches 11.5%
In 2014, the national federal student loan cohort default rate — a measure of how many borrowers of Federal Family Education Loans or William D. Ford Federal Direct Loans defaulted on their debt — hit 11.5%, an all-time high. Of the millions of students who entered repayment, hundreds of thousands defaulted on their loans, meaning they didn't make payments for at least 270 days. 
According to the most recent data, the default rate has decreased slightly to 10.8%. However, student loan default remains a major issue for thousands of borrowers amidst the student loan debt crisis.
3. Department of Education announces Borrower Defense to Repayment
Over the past 10 years, several for-profit schools have been sued due to misleading tactics. Millions of students were left with student loans and a degree that couldn't help them secure a job. 
In 2016, then-President Obama's administration announced new regulations that were designed to protect borrowers from institutional misconduct. Called Borrower Defense to Repayment, the new regulations allowed borrowers to have their loans discharged if the school was found guilty of fraud, or if the school gave the borrower misleading information. 
Borrowers who think they are eligible can apply for Borrower Defense to Repayment online.
4. First borrowers become eligible for loan forgiveness through Public Service Loan Forgiveness
In 2017, the first borrowers became eligible for loan forgiveness under Public Service Loan Forgiveness (PSLF). While the program was launched in 2007, borrowers have to work for a qualifying non-profit organization or government agency for 10 years while making payments on their loans to be eligible for PSLF. 
Was the program successful? That depends on your perspective. As of June 2019, over 90,000 borrowers submitted PSLF applications. But to date, only 1,216 applications for loan forgiveness have been approved.  That means 99% of PSLF applicants are rejected. 
5. Student loan debt crosses $1.5 trillion mark
In the first quarter of 2018, the national outstanding student loan debt reached $1.5 trillion for the first time in history. If that doesn't sound that remarkable to you, consider that the total outstanding loan debt was just $600 billion a decade ago. In only 10 years, national student loan debt more than doubled. 
Student loans are more prevalent than ever. According to The Institute for College Access & Success, 65 percent of college seniors who graduated from public and private colleges in 2018 had student loan debt. On average, borrowers had $29,200 in student loans.
6. Several for-profit schools close down
Over the past decade, for-profit schools have faced increased scrutiny and pressure from the U.S. Department of Education. As a result, several of the biggest for-profit schools closed down. 
Corinthian College:

A school that operated 28 campuses across the country, Corinthian College closed in 2015. The closure came after the Department of Education fined the school for misrepresenting job placement rates. Over 16,000 students were affected. 

ITT Tech:

In 2016, ITT Tech shut down its 130 campuses, impacting over 43,000 students. The closure came after multiple federal sanctions and after the Department of Education prohibited the school from enrolling new students who use federal financial aid. Students affected by the closure could pursue closed-school discharge, with over $500 million in federal student loans at stake. 

Education Corporation of America:

In 2018, the Education Corporation of America shut down its 70 campuses, leaving over 19,000 students scrambling for solutions. The closure occurred after the Accrediting Council for Independent Colleges and Schools suspended the school's accreditation over concerns about institutional management and student progress. 
7. President Trump grants automatic loan forgiveness to disabled veterans
In 2019, President Trump signed a Presidential Memorandum to help totally and permanently disabled veterans with their student loans. With the new process, the Department of Education would automatically forgive the federal loan balances belonging to eligible veterans under Total and Permanent Disability Discharge. 
Previously, veterans could qualify for Total and Permanent Disability Discharge. However, the process required veterans to know about the program and fill out extensive paperwork. Under President Trump's order, their loans were eliminated automatically, simplifying the discharge process.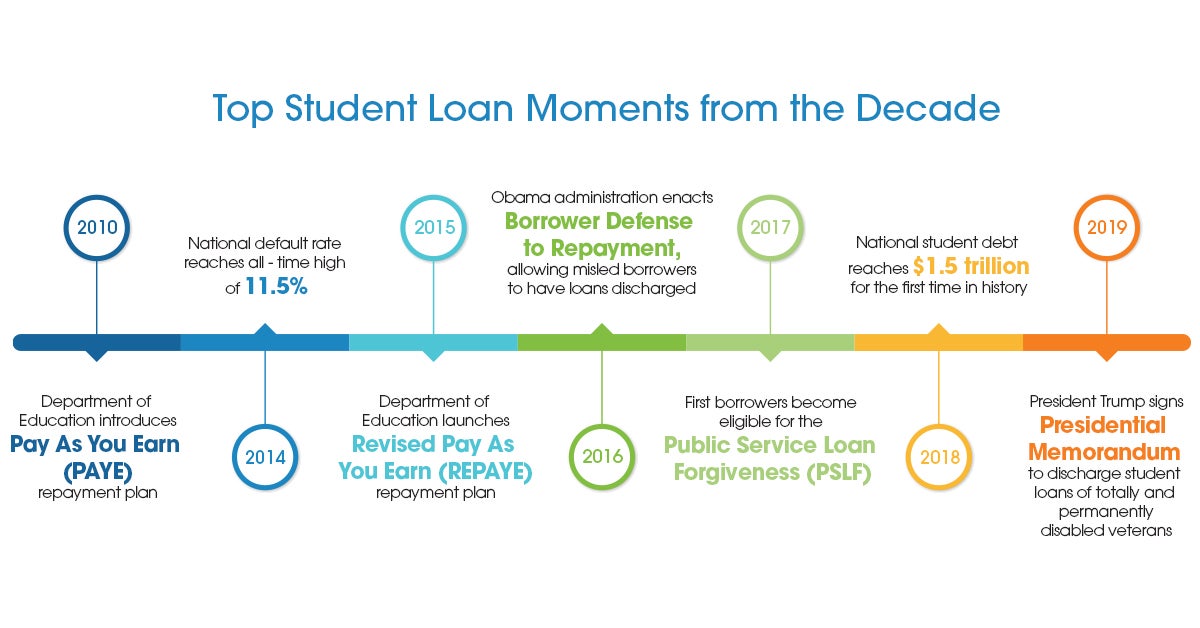 Timeline depicting the top student loan moments from the past decade.
Looking ahead
The past decade produced major changes to the student loan systems. As the 2020 election nears, more and more politicians will be paying attention to student loan issues since they impact millions of borrowers. Many presidential candidates will be introducing their educational policy proposals, which could signal new changes for borrowers in the next few years.
---
Notice About Third Party Websites: Education Loan Finance by SouthEast Bank is not responsible for and has no control over the subject matter, content, information, or graphics of the websites that have links here. The portal and news features are being provided by an outside source – the bank is not responsible for the content. Please contact us with any concerns or comments.