Meet the Student Loan Advisors of ELFI: Part 2
November 26, 2019
Last Updated on August 5, 2021
This Thanksgiving, we're thankful for the individuals who help Education Loan Finance continue to serve those with student debt with top-notch customer service – our Student Loan Advisors! Navigating student loans can be tricky, but our Student Loan Advisors are ready to answer any question you can think of when it comes to refinancing student loans. Here's a look at a few of our dedicated Student Loan Advisors who make ELFI great.
---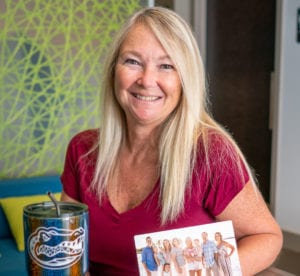 Colene Helveston
Meet Colene, an ELFI Student Loan Advisor and major Florida Gators fan. With three children and three grandchildren, Colene has a deep concern for people working hard to pay off student debt. Her favorite part of working for ELFI is helping borrowers who have difficulty getting approved for refinancing – she is patient with them throughout the process and keeps them updated on all documents they need. She says it feels great when the borrower finally gets approved, is happy with their rate, and immediately leaves a good review.
Her latest review from a customer:
"Colene was wonderful in guiding me through the entire process. She was always quick to respond and explain what was needed and why."
Thanks for all you do, Colene!
---

Drew Johnson
Meet Drew, an ELFI Student Loan Advisor that assists customers through each stage of the refinancing process, from the application phase to the funding of their loan. His favorite part of working for ELFI is interacting with his customers and finding commonality.
Drew's most recent review from a customer:
"Communication was top notch. Drew answered my questions quickly and clearly. I felt like I could trust him and the whole process moved along very smoothly."
We appreciate you, Drew!
---

Amanda Scott
While Amanda is no longer a PLA, we are thankful for her taking on the role of Customer Service Lead! She enjoys to crotchet keepsakes for her friends and family, as well as for herself. Besides the snacks, her favorite part about working at ELFI is being able to help people navigate the student loan space.
Her favorite story with a customer involved dealing with a father and son – the son was applying to have his student loans refinanced, but didn't quite meet the criteria. Amanda kept them in mind for some time and let them know when the criteria changed (which wasn't required of her). Not only did the son qualify to have his student loans refinanced, but the father went on to refer his two daughters to Education Loan Finance, all because of the work Amanda put into helping them! Now that's a good example of how helping others truly comes around!
Here's a testimonial from one of Amanda's former customers:
Great work, Amanda!
---
Leaders in Customer Service
These dedicated individuals and the rest of ELFI's Student Loan Advisors are to credit for our 4.8 out of 5.0 TrustPilot Rating and #1 Best Refi for Customer Service award from NerdWallet. As a team, they strive to provide elite service to everyone who inquires about refinancing their student loans.
Why Does ELFI Use Student Loan Advisors?
There's no one-size-fits-all solution for student loan refinancing. Personal loans often come with a fixed amount of time to pay them back – which means that if you're in your twenties and just starting out on your career path, you want to be sure that your monthly loan payments are affordable. You also need to be aware that missing a payment could seriously damage your credit rating. Weighing all the refinancing options available to you can be difficult on your own, which is why we provide every customer with a dedicated Student Loan Advisor to help them navigate the process from start to finish.
The appointment of a PLA is a unique feature of ELFI's services. If you're interested in refinancing your student loans, our PLAs are always available by phone, text, or email. One of our PLAs will be dedicated to you from the moment you apply and will work with you each step of the way to ensure your ELFI refinanced loan is the optimal fit for you. Contact us to get started!*
*Subject to credit approval. Terms and conditions apply.