What's a Credit Freeze?
May 30, 2019
What does buying a house, applying for a student loan, and getting a personal loan all have in common? They are all different forms of credit. Credit is provided to you by a financial lender.  That lender will utilize your credit report in order to evaluate your credit history to decide if you qualify for credit with them. While evaluating your credit history and credit score they will do an inquiry on your credit. This inquiry can affect your credit score and can be placed on a report depending on the type of inquiry that's completed by the institution. It's essential to know the two different types of credit inquiries, what a credit freeze is, how it relates to a credit inquiry, the benefits of a credit freeze, and how to put one in place and remove it.
What Is a Credit Inquiry?
According to myFICO.com, a credit inquiry is a "request by a 'legitimate business' to check your credit." These checks are categorized as either "hard" or "soft" inquiries, which we'll break down in more detail later. "Credit pulls" are often a casual term used to describe both types of inquiries which gives a person, lender, or company the ability to view your credit report and see your credit score. Both types of credit pulls are included on your credit report but, only you can see the soft inquiries.
For example, imagine you're looking for a mortgage. Let's say that a credit card company recently did multiple soft credit inquiries on your account to "pre-qualify" you for a new credit card promotion that they have. When the mortgage company you submitted an application too reviews your credit report, they will not see the soft credit inquiries completed by the credit card company.  Additionally, the soft inquiries that were completed by the credit card company will not affect your credit score.
Regardless, the type of credit you're opening, obtaining credit takes time, careful consideration, and patience. Each time a lender accesses your credit score and credit report to make a decision, you run the risk of damaging your creditworthiness. So what types of credit inquiries will affect your credit report and credit score? What type of credit inquiry are they, soft credit pulls or hard credit pulls?
Soft Credit Inquiries vs. Hard Credit Inquiries
There are many differences between soft credit inquiries and hard credit inquiries. For example, soft credit inquiries can be part of the employment process if you are applying to a financial institution. Soft credit inquiries won't affect your credit score, and they won't show up on a credit report. Soft credit inquiries can be done without your permission. You may be wondering, "who's sitting around running my credit report on a Saturday night?" Involuntary checks on your credit report will typically come from financial lenders who want to market a "pre-qualified" offer to you. We've all seen these types of mailers that you get from unfamiliar companies that say "Hey, you've pre-qualified for an auto loan! Here's your special code go sign up today!" Soft credit inquiries usually consist of employment verification checks, pre-qualified credit card offers, when you check your credit score, and pre-qualified insurance quotes. Now, we know what a soft credit inquiry or soft credit pull is, but what is a hard credit inquiry or hard credit pull?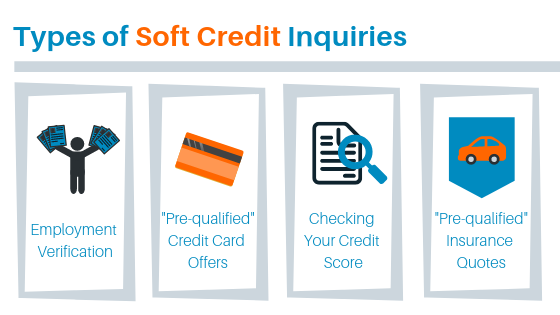 Hard credit inquiries are usually completed for larger banking requests like submitting an application for a mortgage. For example, you'd submit an application if you were applying for a mortgage, personal loan, auto loan, or student loan, among other types of loans. After having a hard credit inquiry completed there is a chance that your credit score may be affected. Multiple hard credit inquiries can affect your credit score negatively and all the hard credit inquiries will be visible on your credit report. These inquiries can show up on your credit report for up to two years after the inquiry is completed.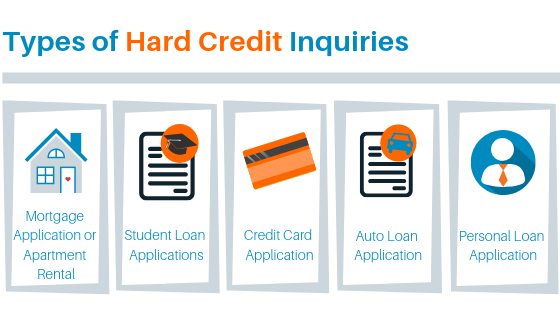 Typically when you're submitting an application or applying for new credit – it will affect your FICO score if you are applying for a loan with multiple lenders. You should still apply to multiple lenders to find yourself the best interest rates. Now, if you are applying for the same type of credit, it is likely that if the inquiries are done within a certain window, they may be counted as a single inquiry. Inquiries are important to understand because they are the building block to your credit score and credit report which illustrates for lenders your financial wellness. Be sure that you know what you are signing up for before you proceed to submit those application documents. Speaking of financial wellness, what is a credit freeze and how can you benefit from it?
What is a Credit Freeze?
A credit freeze is pretty self-explanatory, it's a freeze or hold that is placed on your credit to stop lenders from completing any inquiries. You may have heard a credit freeze referred to as a security freeze. Having a credit freeze will not impact your day-to-day financial wellness routines. You'll still have the ability to pull an annual credit report to review it for accuracy. If you want to open up new credit that will require a hard credit inquiry all you need to do is simply lift the credit freeze temporally until it is completed. It's important to note that though you may have a credit freeze in place, creditors, debt collectors, who actively have an account that belongs to you and government agencies utilizing warrants, and subpoenas will have access to your credit report.  All these simple things to secure your financial wellness and guess what? It gets better, all credit freezes are free!
You're protecting your identity from thieves who may be trying to open accounts in your name, but it doesn't cost a dime – no brainer! As we learned above, when you're applying for credit like a mortgage, a lender will need to do a hard credit inquiry. If you're not expecting to have your credit reviewed, it's recommended that you place a credit freeze on your account. It's important to know how to put a credit freeze into action and get it onto your account ASAP to keep those thieves away! Also, if you are a parent of a child under the age of sixteen, you should consider freezing their account too as per the FTC.
How to Implement a Credit Freeze
Now it sounds like it's a lot harder than it actually is to implement a credit freeze. It also sounds way expensive too, but we know thanks to government laws it is free! Here's how to place a credit freeze with each of the major U.S. credit agencies.
Equifax:
Visit https://www.equifax.com/personal/credit-report-services/ to setup an Equifax account.
Step 1 –
Provide Personal Information (Name, Date of Birth, Social Security Number, Mobile Number, Address)
Step 2-
Create Account Details (Email Address, Password)
Step 3-
Verify your identity using a text message or answering financial questions about yourself. My phone was broken, so I got to take my very own financial quiz to confirm my identity.
Step 4-
Once the quiz questions are answered you're queued to sign in.
Step 5-
Select "Place or Manage A Freeze"
Transunion:
Visit https://www.transunion.com/credit-freeze to setup a Transunion Account.
Step 1- Select "Add Freeze"
Step 2- Provide Personal Information (Name, Date of Birth, Last 4 Digits of Social Security Number, Address)
Step 3- Create an Account
Step 4- Verify finance history via questions provided.
Step 5- Add Credit Freeze.
Experian:
Visit – https://www.experian.com/freeze/center.html and select "Add a Security Freeze"
Select Whose Credit You'd like to Freeze
Step 1- Provide Personal Information (Name, Date of Birth, Social Security Number, Address, Email Address, Create a Pin)
If you are serious about freezing your credit you're going to want to utilize all three U.S. major credit agencies Equifax, Transunion, and Experian. Most of them provide a pin once the freeze is placed, so be sure that you keep that pin for your records. When you are ready to lift the security freeze or credit freeze you should have it readily available to you.
How To Lift a Credit Freeze
You can lift a credit freeze or you can choose to remove it altogether. In order to do so, it's similar to the credit freeze sign up process. You need to contact each credit agency and make a request to remove the credit freeze. As we discussed previously many of the three major agencies utilize a pin, almost like a password, that you'll need to provide to lift or remove the credit freeze from that bureau.
Attaining good credit and working hard to keep your finances healthy, isn't easy. With all the recent data breaches it is so important to take the necessary steps to protect yourself and your family from those looking to complete identity theft. One incorrect credit inquiry could cause a much bigger problem for you then taking the time to prevent it now. Credit freezes aren't the only way to protect your credit from thieves if you lifted your credit freeze or removed it fully you may want to look into utilizing fraud alerts.
Fraud Alerts for Credit Reports
If you don't want to freeze your credit but want added security for your credit reports, try fraud alerts. There are three different types of fraud alerts: initial fraud alert, active duty fraud alert, and extended fraud alert. What're the differences between each and what makes them different from a credit freeze?
Initial 90 Day Fraud Alert
The initial fraud alert is an alert that lasts usually around 90 days and is often used when financial information, credit card numbers, or your wallet have been stolen or even lost. The initial fraud alert gets placed on your credit report. Meaning, if someone is, in fact, trying to steal your identity they will have a difficult time because companies will be required to take additional steps to verify your identity before issuing additional forms of credit. You can place these alerts on your credit report by contacting a credit agency. Once one agency is contacted they must notify the other two U.S. credit agencies. Initial fraud alerts can be renewed after the 90 day period.
Active Duty Alerts
These alerts are designed for people who are on active military duty. They operate similarly to initial fraud alerts in that they require businesses to complete extra tasks to confirm the borrower's identity before an additional form of credit can be issued. These types of alerts typically last about 12 months or a year but can be renewed to match the deployment period. When you contact a credit agency, it must notify the other two U.S. credit agencies. Also, according to the FTC, the credit agencies must remove your name from any marketing lists for prescreened credit card offers for two years unless you request otherwise.
Extended Fraud Alerts
Extended fraud alerts are commonly used if you have already fallen victim to identity theft. Extended fraud alerts last 7 years. In order to place this type of alert on your credit report, you'll need to send proof of identity theft to one of the three major U.S. credit agencies. Here is a great government resource if you ever fall victim to identity theft.
Similarities and Differences between Credit Freezes and Fraud Alerts
Fraud alerts and credit freezes have some similarities and unique differences. For example, both alerts and freezes are free of charge according to U.S. federal law. Any current creditors will still have access to your credit report even if you have fraud alerts enabled or you have a credit freeze in place. If you choose to open any new forms of credit while these are enabled it could lengthen the process for the new creditor. These are the similarities but what makes fraud alerts and credit freezes different?
One main difference is for a credit freeze each U.S. agency will need to be contacted directly. Whereas, for fraud alerts, if you notify one credit agency, that credit agency is responsible for notifying the other two credit agencies. During a credit freeze, prospective lenders will not have any access to your credit report. With a fraud alert, prospective lenders do have access to your credit report but will need to take additional steps before issuing new lines of credit. The last and one of the most obvious differences between these two is that credit freezes don't have an expiration date. A credit freeze can be placed on your credit report until the end of time unless you request that it is removed. A fraud alert typically will expire within a year, or seven years depending on the type of fraud alert you've selected.
NOTICE: Third Party Web Sites
Education Loan Finance by SouthEast Bank is not responsible for and has no control over the subject matter, content, information, or graphics of the websites that have links here. The portal and news features are being provided by an outside source – The bank is not responsible for the content. Please contact us with any concerns or comments.