A Physical Therapist's Guide to Student Loan Refinancing
July 30, 2020
Last Updated on September 5, 2023

As a physical therapist, you play a critical role in people's lives. You help them manage their pain, improve their range of motion, and recover from serious injuries. It's a serious profession that requires specialized education, so it's no wonder that its job outlook is expected to grow much faster than the typical career. 
According to the U.S. Bureau of Labor Statistics, physical therapists' median salary is $89,440, far higher than the national median wage for all occupations. However, debt is a major problem for new physical therapists since the field requires advanced degrees and professional licenses. 
The American Physical Therapy Association reported that nine out of ten physical therapy graduates have education-related debt, with an average balance of $116,000. Graduate and professional degree loans tend to have high interest rates. But since you have a higher-than-average income, you're a prime candidate for student loan refinancing. 
Why student loan refinancing makes sense for physical therapists
While student loan refinancing* can be an effective tool for managing debt for many borrowers, it can be especially useful for physical therapists for the following reasons. 
1. You may not qualify for loan forgiveness
With Public Service Loan Forgiveness (PSLF), federal loan borrowers can qualify for loan forgiveness if they work for an eligible non-profit for 10 years while making 120 monthly payments under a qualifying payment plan.
While some physical therapists work for non-profit organizations or hospitals, many choose to work in private practice because it may offer more earning potential. 
If you work for a private practice, you aren't eligible for PSLF. Refinancing your loans would cause you to lose your eligibility for PSLF, but if you're in private practice and ineligible for it anyway, that's not a drawback you have to consider. 
Learn More: Student Loan Forgiveness for Physical Therapists
2. You likely had to take out private student loans
With such an expensive degree, you likely hit the borrowing cap on Direct Unsubsidized Loans and had to take out PLUS Loans, which have higher interest rates, or you used private student loans to finance your education. 
With private loans, you don't have access to benefits like loan forgiveness or income-driven repayment plans. When you refinance private loans, you won't lose any federal benefits. In fact, you may even get a servicer that offers more benefits. For example, ELFI offers forbearance for up to 12 months for borrowers facing financial hardships. 
3. You may have high-interest debt
Graduate and professional degree loans tend to have the highest interest rates. For example, Grad PLUS Loans issued before July 1, 2020, had an interest rate of 7.08%. Over time, that high rate can cause you to pay thousands more than you initially borrowed. 
Benefits of refinancing your debt
As a physical therapist, there are many advantages to refinancing your student loans. 
1. You can save money
Since you likely have a substantial amount of student loan debt, you can save a significant amount of money by refinancing your loans. If you have good credit, or a cosigner willing to apply for a loan with you, you can qualify for a loan with a lower interest rate. Over time, that lower rate will allow you to save thousands of dollars. 
For example, let's say you graduated with $116,000 in PLUS Loans at 7.08% interest and a 10-year repayment term. By the end of your repayment term, you will repay $46,198 in interest charges on top of what you originally borrowed. 
If you refinanced your loans and qualified for a 10-year loan at 4.75% interest, you'd pay just $29,948 in interest charges. By refinancing your student loans, you'd save $16,249 over the life of your loans.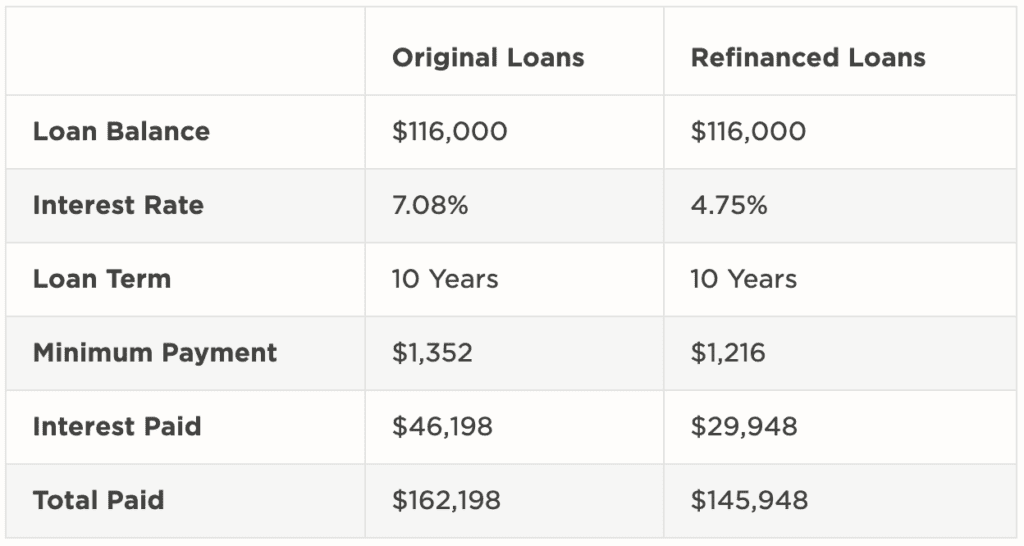 Use the student loan refinance calculator to find out how much you could save by refinancing your loans with ELFI.* 
2. You can pay off your student loans sooner
When you refinance your loans, you can choose a new loan term. In general, the lowest interest rates are reserved for shorter loan terms. If you want the lowest rate possible, opt for a rate of five or seven years rather than ten, 15, or 20 years. 
With a shorter term and a lower rate, you'll save more money over your repayment term. And, you'll be out of debt years earlier. With your loans paid off, you'll be free to pursue your other financial goals, like saving for a house or boosting your retirement nest egg. 
3. You can reduce your monthly payments
If you refinance your loans and qualify for a lower interest rate or extend your repayment term, you can significantly reduce your minimum monthly payment. If you're struggling to make ends meet right now, especially when you're just starting out in your career, the ability to get a smaller payment can be a significant relief. It can give you some breathing room in your budget for rent or other necessities.
As your career progresses and you get more financially secure, you make extra payments on your loans. Or, you can even pay them off early without a prepayment penalty. 
Managing your student loan debt
For a physical therapist, student loan refinancing can be a smart strategy for tackling debt. You likely had to take on six-figures of student loan debt to pay for school, so refinancing your loans can help you secure a lower rate and save money over time. You can use ELFI's Find My Rate tool to get a quote without affecting your credit score.*
---
*Subject to credit approval.
Notice About Third Party Websites: Education Loan Finance by SouthEast Bank is not responsible for and has no control over the subject matter, content, information, or graphics of the websites that have links here. The portal and news features are being provided by an outside source – the bank is not responsible for the content. Please contact us with any concerns or comments.