The Best Financial Websites & Podcasts
September 25, 2019
Last Updated on December 4, 2020
Navigating the world of personal finance is no easy task. Learning how to manage your money can be difficult, especially as a recent college graduate or young professional. You're going through so many changes, and the whole world is at your feet, but you also sometimes feel the weight of the world on your shoulders. So don't let your money become a guessing game. To help you out, we've gathered some of our favorite websites and podcasts you can turn to for financial advice. 
Founded by Tim Chen in 2009, NerdWallet's mission is to provide clarity for all of life's financial decisions. NerdWallet has grown from a credit cards comparison spreadsheet in 2009 to a go-to source for millions of people when it comes to making financial decisions. NerdWallet's tailored advice, content and tools ensure you're getting more from your money, covering the topics of credit cards, banking, investing, mortgages, loans, insurance, money and even travel. 
Originally founded by a man on a journey to get out of debt, this website has flourished over the past eleven years and become a well-respected source of financial advice. The site provides practical tips for money management. The Simple Dollar's mission is "providing well-researched, useful content that empowers our readers to make smart financial decisions." Staying true to that mission, it serves millions of readers and has been featured in major publications, including Forbes, Business Insider, and TIME. 
New York Times bestselling author & financial expert, Suze Orman, offers advice through a variety of channels, including books, live events, blogs, and podcasts. Her website includes a wide range of resources, from student loans to family and estate planning, and everything in between. More than 1 million followers glean knowledge from her every week on Twitter, where she shares financial tips and links to other work, such as her podcasts and blogs.
This Washington, D.C.-based publisher releases more than just personal finance tips. The company creates print and online publications featuring business and economic forecasts, as well. The monthly personal finance magazine shares advice for money management, investment, retirement, taxes, insurance, real estate, auto purchases, health care, travel, and paying for college. According to its website, Kiplinger Magazine was the first magazine that offered money management advice for Americans, so this organization has a long and proud history as a financial resource.
This podcast is led and hosted by financial advisors with nearly two decades of experience.
Its episodes cover a wide range of topics, from insurance, to taxes, to entrepreneurship, to debt, and beyond. In reviews, listeners rave about the way the hosts explain financial concepts that people can apply to their lives. Here's just one review from an Apple Podcast Listener: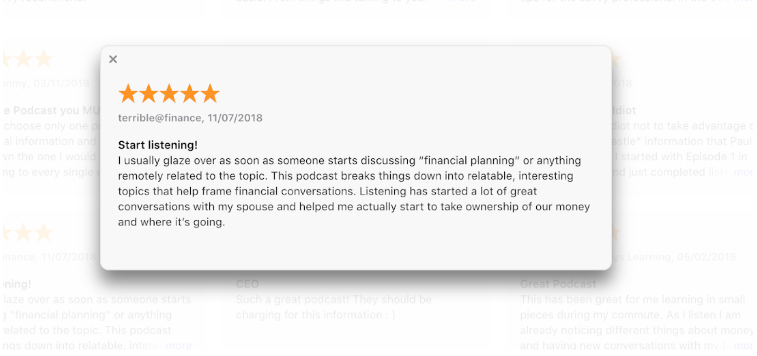 The hosts also share inspiration on Twitter. 
Radical Personal Finance aims to not just provide general financial information but to encourage listeners to take actionable steps to improve their finances and lifestyles. The show also strives to equip its listeners with enough information to be able to think critically and make sound decisions for themselves. According to its reviews, listeners enjoy the unique perspectives this podcast brings to the table.  
While you may not always agree with everything the podcast hosts say or the blog editors write, listening to a more experienced point of view is always helpful. You can take some of the tips in these blogs and podcasts and immediately apply them to your personal finance routine. Make some of these a daily part of your routine and you'll find you're learning more about money than you ever dreamed. 
We live in a time when our attention spans are being divided more and more thinly. We wanted to share our favorite podcasts and financing websites because they're easy to consume on-the-go. There's no need to set aside time in your busy schedule. These resources are available on the commute to work, during your lunch break or any time you want to sharpen your financial know-how.
If you're interested in a private student loan or refinancing your student loans, our Personal Loan Advisors are available and would love to speak with you and answer any other questions you may have. Let's connect.*
---
*Subject to credit approval. Terms and conditions apply.
NOTICE: Third Party Web Sites
Education Loan Finance by SouthEast Bank is not responsible for and has no control over the subject matter, content, information, or graphics of the websites that have links here. The portal and news features are being provided by an outside source – The bank is not responsible for the content. Please contact us with any concerns or comments.