Comparing Salary to the Cost of Living
April 12, 2019
Recently, CNBC released an article discussing student loan debt in relation to locations throughout the United States. This has many questioning whether they can find a job title in their field where they want to live, that will support their current bills, payments, lifestyle, and student loans. Depending on the location and cost of living, you could be making thousands less in one location when compared to another. To add more insult you could be expected to pay off more than you are capable of based on your location. When searching for a career path, it's vital to consider where your job title is going to be the most successful and where you can afford your current lifestyle. Here are some important factors to keep in mind when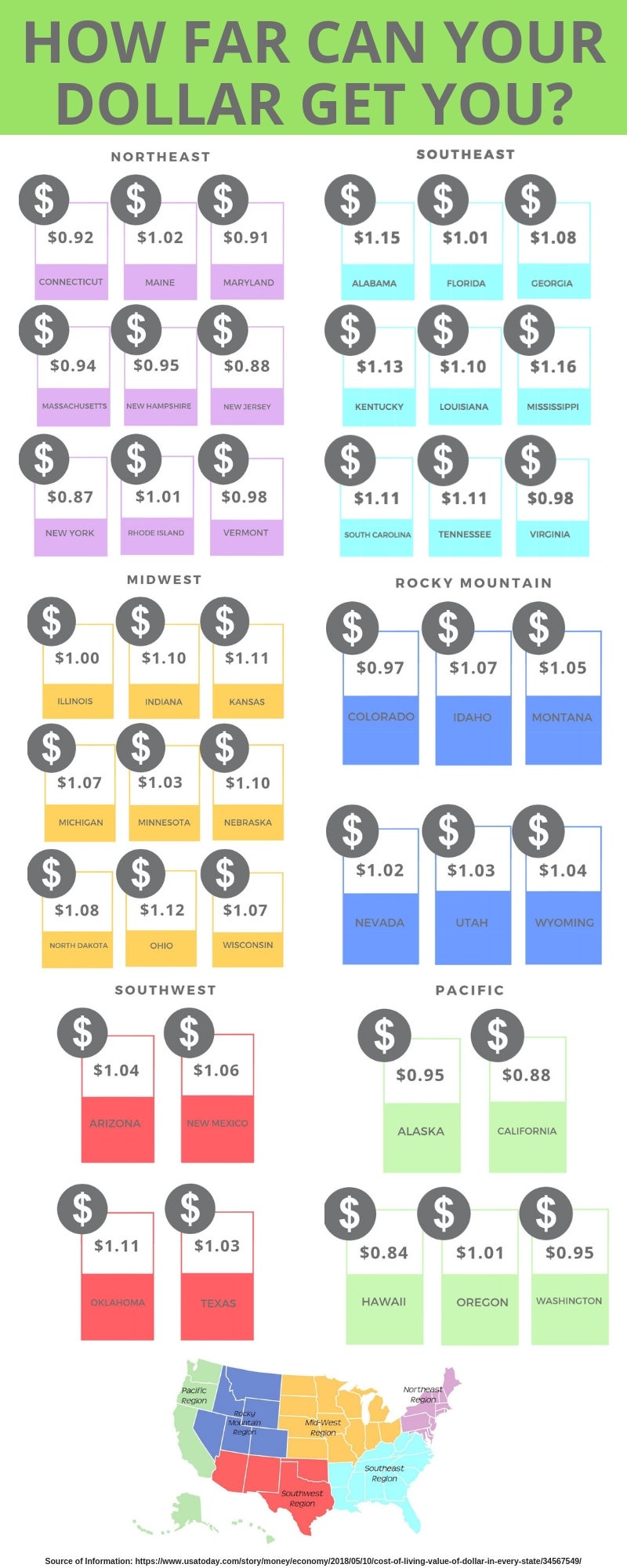 Location Expenses
Consider the cost of living in a variety of locations.  Everyday costs like food, housing, utilities, and transportation can all vary depending on where you live in the United States. Let's see how a location can be affected by each of these variables.
Generally, big cities are known to be more costly compared to rural areas.  The Bureau of Economic Analysis tracks price levels for food, housing and education in each state and compares them to the national level. This information can be put into a dollar value scale to simplify which states are more expensive to live in than others. For example, the value of a dollar in New York, Hawaii, and California is less than the national average dollar. Meaning your dollar bill is comparable to some cent values in other locations. In states like Kansas, Kentucky, and Ohio that are not as urbanized the dollar values higher than the national average dollar. Meaning your dollar goes a little further in these areas.
Housing Costs
You may be asking, "What makes big cities so pricey?" and there are actually a few different reasons. The main drive for high priced locations is housing. For cities with a high population, there needs to be an abundance of housing. A high population causes overcrowded cities to have a limited amount of space for the number of people wanting to live there. A high housing demand creates steep prices in the market because everyone is in need of a place to live. If the city life is looking a little out of budget for you, remember living outside the city and commuting is an option, and may be more cost-effective. Aside from the costs of housing, costs like transportation, utilities, and insurance may affect the cost of living.
Transportation Costs
We all know how expensive a car, gas, and maintenance can be. When commuting to work or even the supermarket, the distance between point A and point B will affect the amount of money you spend. .Whereas, living in the city you may literally be paying for convenience. You may be spending $200 or more a month on a permanent parking spot for your car, in addition to spending money on transportation fees. For example, in New York you could take a bus to the subway station, costing you around $2.50. Then you commute to work on the subway, costing you another $2.75. If you do this twice a day (at least) the commute will cost $10.50. Spending $10.50 five days a week for a month will get you to a grand total of $210.00 not even considering additional outings.  Please note that these prices may not be the same for all locations. For example, the average bus fare in Los Angeles is $1.75, but in Washington DC the bus fare ranges from $2.00-$5.00 depending on the commute.
Utilities
Utilities will also affect the cost of living, the amount depending on where you live. The cost of utilities can vary based on government regulations. Things like how much water, electricity, and gas, you are consuming can be dependent based on the weather where you are located. If you are living in a location where the winter can get very cold, that could be making a dent in your wallet on utility bills. For example, Alaska, Connecticut, and Massachusetts have an average electric rate of $21.62 per Kwh (kilowatt hour) a month.  In a place where it is always warm like Hawaii, the air conditioning may be used more frequently and the average electric rate would be $32.40 per Kwh a month.
Additional utility costs may include garbage removal and sewage costs. In the United States, the average cost for garbage removal is from $12.00 -$20.00 a household. Sewage rates are usually included in water rates that can be viewed with the electricity bill and can altogether be around $50.00.  In some cases, if you are living in an apartment, utilities like garbage removal and sewage will be included in your rent, or it can be separate on your electricity bill. Talk to your landlord or call housing management to find out what is included.
Insurance
Besides housing, transportation, and utilities, you will have car insurance, renter's insurance.  The average rate for car insurance in the United States is $118.63 per month but can vary based on the location you are in. For example, the average cost of auto insurance in North Carolina is $865 each year while the average cost of auto insurance in Oklahoma is $1,542 a year. T Auto insurance pricing can depend on the company you have insurance with, your age, and even your gender!  For example, some companies will have a 1% price difference between genders.
If you choose to live in the city, it's likely you may find yourself renting. Renter's insurance is an additional cost you'll want to consider.  The average, renter's insurance in the United State is $187 per year. Renter's insurance can be more expensive in some areas due to population and crime. If you live in a high populated area, insurance could be priced higher because the crime risk is higher.  The insurance company takes greater measures to cover your belongings in high populated areas. Renter's insurance in Florida has an average rate of $217 per month, while in South Dakota the average rate is $118 a month.
Before completely scaring you back into your parent's house for life, there are a few resources you can use to find a job and field of your choice, in areas that could be most profitable.
Job Search Resources
SimplyHired
https://www.simplyhired.com/salaries
SimplyHired will estimate the salary your specific job will be making in different locations. All you have to do is type in the job title you are looking for, and the city and state, into the search engine. Using this tool you can find out things like a nurse can make $50,000 in Dallas, Texas but, in Indianapolis, Indiana is making closer to $40,000. Although this does not calculate the cost of living, this website pulls up jobs from all over the United States. SimplyHired gives users easy access to salary information when starting to compare careers in different regions.
Expatistan
https://www.expatistan.com/cost-of-living/nashville
Cost of living is an important factor when searching for a location that is right for you and your preferred career. Hence why we created this helpful blog! Expatistan has a feature that pulls up a spreadsheet estimating how lifestyle choices may cost in different cities or even countries. For example, when searching in Nashville, Tennessee, Expatistan created a page that included potential prices for food, housing, clothes, transportation, personal care, and entertainment. Expatistan estimated:
Rent 900 Sq Foot Apartment – $1,408/month
Lunchtime Meal – $14
Sports Shoes – $98
Shampoo– $6
This website is a great place to find detailed estimates of what you may be spending on everyday items.  A tool like this can be very helpful when trying to manage the salary and lifestyle you are looking for.
CNN Money
https://money.cnn.com/calculator/pf/cost-of-living/index.html
After finding an estimated salary and cost of living for a specific location, you can compare it to other areas with CNN Money Cost of Living Calculator.  You'll need to input
where you live now
where you are considering living
give an estimate of how much your salary is now (or what the salary is in the field you are searching for)
Based on the information provided, the calculator will estimate how much you would be making somewhere else. For example, if you live in Atlanta, Georgia right now and are making $50,000 a year, and you would like to move to Bozeman, Montana, the comparable salary is $50,709, which is around the same amount. Now if you moved, from Atlanta with a $50,000 salary to San Francisco, the comparable salary is $97,470. Once again, the cost of living will factor in what you can afford in each region.
Comparing salaries, regions, and the cost of living can help you determine where you're aspiring jobs can be the most beneficial for your lifestyle. Consider where you will have the most financial wiggle room. Educate yourself on the cost of housing, transportation, utilities, and insurance before jumping into the car moving to a new city. Optimize your options by looking at the cost of convenience versus living outside of a location for less and other opportunities. What city you will feel the most at home in? If you are not satisfied with your options, try a different job title or location, you're not a tree. Scope out all of your alternatives and find one that betters your lifestyle in the long run.
Top 7 Money Mistakes For Young Professionals
NOTICE: Third Party Web Sites
Education Loan Finance by SouthEast Bank is not responsible for and has no control over the subject matter, content, information, or graphics of the websites that have links here. The portal and news features are being provided by an outside source – The bank is not responsible for the content. Please contact us with any concerns or comments.
Resources
https://www.usatoday.com/story/money/economy/2018/05/10/cost-of-living-value-of-dollar-in-every-state/34567549/
https://ask.metafilter.com/37074/Why-is-it-more-expensive-to-live-in-a-city 
https://www.priceoftravel.com/595/public-transportation-prices-in-80-worldwide-cities/
https://www.chooseenergy.com/electricity-rates-by-state/
https://www.thezebra.com/auto-insurance/average-auto-insurance/#state
https://www.valuepenguin.com/average-cost-renters-insurance#nogo
https://www.valuepenguin.com/average-cost-life-insurance#nogo