What Credit Score is Considered "Good"? What to know about Credit Scores
March 4, 2019
Last Updated on December 9, 2021
This guest post was provided by Debt MD®, a free service that connects consumers with the professional help they need to become debt-free. Debt MD aims to make the path to financial freedom as quick, simple, and stress-free as possible.
A good credit score is becoming more important. A good credit score illustrates to lenders that you are a responsible borrower. There are three major credit bureaus that report on your credit history and determine your credit score.  The higher your credit score, the more you've established yourself as a responsible borrower and the more likely you will be to receive favorable interest rates and loan terms.
Did you know credit scores can be requested from other organizations outside the financial industry? Credit scores illustrate responsibility as a borrower and provide a snapshot of how you handle finances. When you want to establish services like a phone, utilities, insurance, or even rent an apartment, providers look at your credit score. This allows them to choose whether they should allow you to obtain their service or not. Even some employers are now looking at credit reports before hiring someone.
Learn More: Benefits of Having Good Credit
Who Determines a Credit Score? 
What's a three-digit number that can either make or break your financial deal? Yes, you got it right, it's your credit score! There are several different types of credit scores generated using your credit report. So, in simplicity, you determine your credit score since you control how you utilize your credit and finances.
A credit report is just that – a report on your credit history. It includes details regarding credit card payments, loan payments, and the status of each. Your credit score is then calculated using your credit report. Most commonly used is the FICO® Score developed by the Fair Isaac Corporation.
What Makes Up a Credit Score?
The FICO® Score is the most widely used credit scoring model. In fact, according to Fair Isaac Corporation, FICO® Scores are used in 90% of United States credit lending decisions. FICO® Scores are calculated using five main parts of your credit report. The FICO® Score utilizes amounts owed, new credit, length of credit history, payment, history, and credit mix to calculate your score.  Each category represents a percentage, as illustrated on the chart below, to create your full FICO® Score.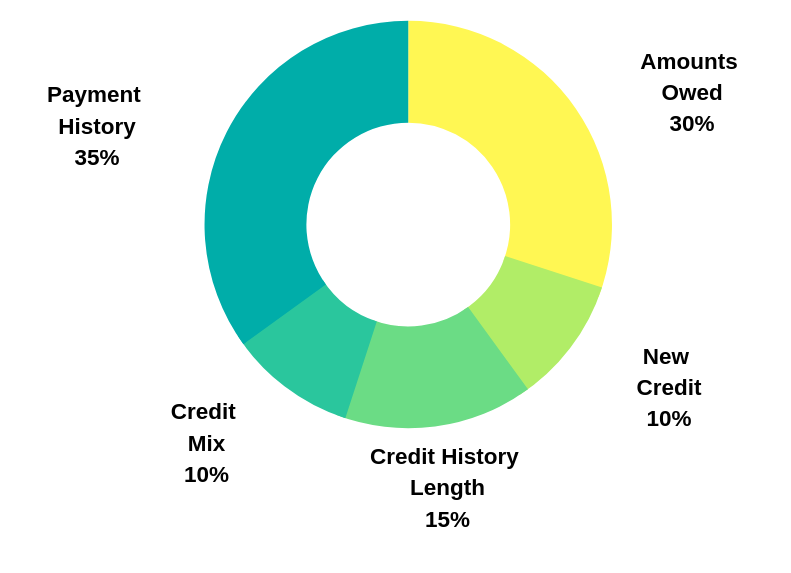 What's a Good Credit Score?
We now know what a credit score is, the factors that determine it, and the primary type of credit score used throughout the lending industry, but what is a "good" credit score? Generally, FICO® Scores range from 300 to 850.
Here is a look at the FICO® Score ranges and their equivalent ratings.
Credit Score Range: Rating
300 to 579: Very Poor
580 to 669: Fair
670 to 739: Good
740 to 799: Very Good
800 to 850: Exceptional
It is important to note that a "good" credit score cutoff will vary depending on the type of financial institution that you are dealing with. For instance, if you are applying for a mortgage loan, you can generally qualify with a score of 620 or better, and to be approved for a premium credit card, you'll need a credit score of around 690. If you're looking to refinance student loan debt, ELFI requires a credit score of 680 or higher.*
It's important to recognize that lenders do not solely base their decision on credit scores. In addition to your credit score, lenders may look at your credit history, debt-to-income ratio, assets, and liabilities to determine if you're a reasonable risk or not. The higher your credit score, the better, as it illustrates your reliability as a borrower hence presenting a lower risk to the organization. When a person has a higher credit score, they likely will be presented with better borrowing options due to their credit history.
How To Find Your Credit Score?
Checking your annual credit report regularly is one of the most important financial habits to develop. This is especially true if you want to improve your credit score. By verifying your credit record, you'll be able to check for errors and discrepancies and dispute them when applicable.
Checking your credit reports will also help you to recognize signs of identity theft, which is becoming more prevalent. You can get your credit report at no cost once every 12 months from each of the three widely recognized credit bureaus (Equifax ®, Experian ® and TransUnion ®) from AnnualCreditReport.com.