Dental School Student Loan Refinancing
September 23, 2019
Last Updated on July 8, 2022
Choosing to become a dentist is an admirable decision, no matter how you look at it – from helping improve patients' appearance and self-confidence to teaching patients how to achieve oral health and prevent disease, a dentist's work goes beyond the chair and impacts lives.
With this being said, the burden undertaken by dental professionals is often overlooked when considering the seemingly hefty salaries associated with the career path. By "burden", of course, we mean the hefty amounts of student loan debt. 
According to the American Dental Education Association, the average dental school debt was $304,824 in 2020, with 39% of indebted dental school graduates reporting student loan debt of more than $300,000. This average debt is over 5x higher than it was in 1990. 
This staggering level of debt may seem overwhelming at first, but rest assured that with a little research, planning, and use of resources, dental school debt can be tackled – but first, let's look at how this debt impacts individuals pursuing a career in dentistry. 
Difficulty Choosing a Dental Specialty
Massive debt often makes it difficult for aspiring dentists to choose the career path they truly want. To begin with, the majority of dental schools require a bachelor's degree to attend. Already carrying undergrad debt, full-time dental students can then expect to finish their dental degrees within four years and become licensed. 
They'll also have to undergo more schooling in addition to their general practice or specialty dental residency if they want to pursue one of the ten recognized specialties:
Public Health Dentistry 

Pediatric Dentistry

Dental Anesthesiology

Orthodontics and Dentofacial Orthopedics

Periodontics

Prosthodontics

Oral and Maxillofacial Surgery

Oral and Maxillofacial Pathology

Endodontics 

Oral and Maxillofacial Radiology
Each of these decisions can be heavily affected by the anxiety of accumulating more debt, often leading students to settle in their career choice. 
Accumulating Student Loan Interest
If you decided to take the route mentioned above and end up with the average amount of dental school debt – about $304,000 – you'll be facing monthly payments of $3,266 on a standard 10-year repayment plan assuming a fixed 5.28% interest rate. And it gets worse – if you paid your loans over this 10-year term, you would pay $87,939 in interest alone – making the total cost $391,939. 
On the bright side, however, when dental students enter the workforce, they often have the advantage of earning income more quickly than graduates in other fields. This makes dentists great candidates for student loan refinancing, especially by refinancing when national interest rates are low.
For dentists, earning a lower interest rate through refinancing could mean saving thousands over the life of their student loans.
Difficulty Starting Career
Because of the overwhelming amount of debt new dentists face, starting their career isn't a stress-free experience. New dentists often have to work through lunch, take more patients and take less time off to accelerate the repayment of their loans. This can lead to exhausting patterns that cause burnout. Not to mention, a large portion of dentists begin dental school with the end goal of starting their own practice, and this cost can easily surpass $250,000.
Recouping this cost while trying to pay off debt can be extremely burdensome. However, choosing the route of starting a private practice is the fastest way to start paying down debt. Private practitioners typically earn higher incomes and have more earning potential than dentists working for another organization. 
How Long Until Dental School Debt is Worth it?
While dental school graduates are generally high earners after entering the workforce, such significant amounts of student loan debt beg the question: is it worth it? The answer, for most dentists, is a resounding "yes," especially when they're able to refinance their student loans to earn a lower interest rate.
In addition to a lower interest rate, student loan refinancing offers the opportunity to extend the selected student loan repayment term. This means dental students can lower their monthly payments to accomplish more pressing financial goals, like buying a home or launching a dental practice. On the other hand, as high earners, dentists who choose to shorten their student loan repayment terms will have the opportunity to pay down debt more quickly and pay less interest over the life of the loan.
Consider How Long it Will Take to Make Back Your Investment
A dentist may graduate with the average amount of debt – about $304,000 – and four years of missed earnings during the years they spent in dental school. After calculating the opportunity cost of $74,000 per year, which is the average pay for a Bachelor of Science degree in chemistry – a common major for pre-dental graduates, the total loan and opportunity cost total about $600,000.
This table from Student Loan Hero shows that with a typical entry-level dentist salary of $119,000 and a five percent yearly increase in earnings, it would take approximately eight years for a dentist's earning potential to offset the cost of dental school: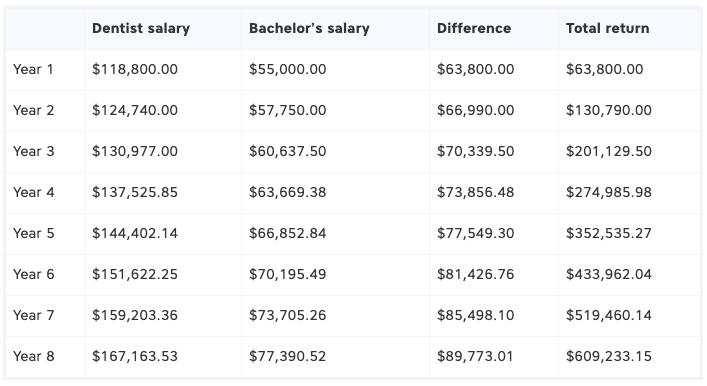 Source: https://studentloanhero.com/featured/dental-school-debt-worth-it/
The bright side? That dental school investment is generating an extra $25,000 in income by the 5-year mark, and that differential will likely continue to increase.
How to Refinance Dental School Loans
Fortunately, the refinancing process for dental school graduates is relatively easy. Especially for individuals not taking advantage of federal benefits or planning to pursue public loan forgiveness, then there are very few drawbacks to refinancing dental school loans. 
Refinancing is a great way to decrease the amount of interest paid over the life of the loan. Dental school graduates should take the following steps to refinance student loans:
Find out if you meet student loan refinancing eligibility requirements

Get an interest rate quote

Compare interest rates from multiple lenders

Submit a student loan refinance application
How to Pay off Dental School Debt Faster
Despite the quantity of debt associated with dental school, the consensus is that paying it off is achievable. Depending on your situation, there are specific actions you can take to make paying off your dental school debt more manageable. 
If you can't afford monthly payments and don't mind paying for an extended period, you can apply for federal income-driven repayment. This will likely extend your payment term from 10 years to 20 or 25 years, and your remaining balance will be forgiven at the end of your repayment period.
Some federal income-driven repayment plans offer student loan forgiveness after a certain length of time. It's important to note, however, that unless otherwise stated, the borrower is still responsible for paying taxes on the amount forgiven. Dental school graduates pursuing this type of student loan forgiveness should consider how much the tax burden will impact the total cost of their loan.
For dentists working in the public sector, specific underserved areas or non-profits, you may qualify for Public Service Loan Forgiveness. This program offers tax-free loan forgiveness to borrowers who pay on their loans for 10 years while working in one of these areas. Keep in mind, though, that only a fraction of PSLF applicants qualify for forgiveness, so it may not be as simple as it sounds.
Refinancing is an alternative strategy for dental school graduates who are interested in a straightforward process that's likely to decrease the interest rates on their loans. Student loan refinancing also offers the option to change your student loan repayment term to focus on accomplishing long-term financial goals, whether that be repaying debt quickly or earning more financial flexibility month-to-month.
Earn Additional Income Working Locum Tenens
Working Locum Tenens means working in a temporary position, often filling in for another dentist or completing a short-term assignment. Some dentists and medical professionals prefer this type of work because of its flexible nature. Others choose to do Locum Tenens work as a way to save toward financial goals or to pay down student loans more quickly. 
Locum agencies may also cover housing and travel costs for travel assignments for individuals who are interested in budget-friendly travel opportunities.
Pay More than the Minimum Payment
Because dentists are often high earners, even immediately after entering the workforce, they may have the opportunity to pay more than the required minimum on student loans each month. Paying more than the required minimum is a great way to decrease the amount of interest accrued over the life of the loan.
Tackle Debt Quicker and Pay Less by Refinancing
If you're in a position where you're not happy with your interest rate, have solid credit, and want to reduce the amount you'll pay monthly and over the lifetime of your loan, refinancing your dental school loans is probably your best bet. 
Dental school graduates are often fantastic candidates for student loan refinancing, as most meet the standard student loan refinancing eligibility requirements. Even with significant amounts of student debt, dental salaries begin relatively high, meaning many dentists have high credit scores and low debt-to-income ratios. If you're interested in paying down your student loans quickly after graduating, student loan refinancing may be an excellent choice.
While refinanced loans aren't eligible for income-driven repayment or Public Service Loan Forgiveness, they can significantly reduce your interest rate, in turn reducing your monthly and lifetime payment. 
In clearer terms, let's say you have $200,000 of student debt from dental school and are paying 6% interest on a 10-year term. Your monthly payment would be about $2,666 and you would pay $320,000 over the lifetime of your loan. 
Refinancing to a 10-year loan term at a 4% interest rate would save you $40,000 in total and reduce your monthly payment by $333. Your new monthly payment would be $2,333 and you would pay $280,000 over the life of the loan.
When to Refinance Dental School Debt
As a best practice, you should refinance student loans after you're certain you won't be taking out additional loans for school. For most dental students, that means refinancing either:
During residency

After completing residency
Before refinancing your dental school loans, be sure to consider your credit score and debt-to-income ratio to ensure you have the best possible chance of being approved for a low-interest loan. If you'd like to improve your debt-to-income ratio, focus on paying down high-interest debt, like credit card debt.
Refinancing During Your Dental Residency
Some dental residency programs offer stipends to help students lay a strong financial foundation. If your program offers a stipend, you may consider refinancing your dental school loans at a repayment term that works well for you.
If your residency charges tuition, however, it may be wise to wait until you're no longer paying educational costs to focus your energy on your student loan payments.
Refinancing After Your Dental Residency
After your dental residency, you may be more likely to have a better credit score and higher income, as well as clearer career goals. If you've already completed your residency and are ready to explore student loan refinancing, now could be the perfect time to learn more about your options.
Refinance Your Dental School Loans with ELFI
Education Loan Finance offers great rates when it comes to refinancing dental student loans – Check out our student loan refinancing calculator to see how much refinancing your dental school loans with ELFI could save you.* With both variable and fixed rate refinance loans available, you can discover which type of loan is right for you.
Additionally, with ELFI, you'll be able to focus all your energy on paying down debt. To make your experience seamless, ELFI charges:
No application fees

No origination fees

No prepayment penalties
Have questions? We'd love to tell you more about the benefits of student loan refinancing. Our Student Loan Advisors are available to guide you through every step of the refinancing process. Give us a call at 1-844-601-ELFI and see why we've been voted #1 in customer service for student loan refinancing.