Resume Writing Tips for Lawyers
January 8, 2021
Graduating from law school is a monumental accomplishment, as is passing the Bar Exam. But the hard work doesn't end when you've earned your degree and you've become officially licensed to practice law. 
You'll also need to write an amazing lawyer resume that will help you find a job so you can put all your hard-earned skills to work — and hopefully earn a competitive salary that enables you to repay any student loans you may have taken out to fund your degree. 
To beat out the competition and write a lawyer resume that stands out from the crowd, be sure to follow these five resume tips for lawyers. 
1. Keep it concise and professional
Hiring managers don't have time to look at a five page resume and they aren't going to be impressed by fancy graphics or an unusual layout. 
Stick to a standard lawyer resume format, use a professional font such as Times New Roman, and keep the resume length to a page or two at most. Remember, most legal hiring managers will glance at your resume for a few seconds at most to see if you have the relevant experience and credentials.  You have just a brief moment to show you're the right candidate and avoid them losing interest.
2. Be strategic about the focus 
Your resume will either focus first on your education or on your experience. The length of your career and the prestigiousness of the school where you earned your degree should determine which you lead with. 
If your career is short but you've graduated from an Ivy League institution, you'll want to highlight your education first and include both your school name and the GPA you earned. If your professional experience is more impressive than the school you attended, on the other hand, build your lawyer resume around your past jobs and include your educational details at the end. 
3. Be specific about your skills and experience 
Your resume should list any honors or distinctions you earned; any leadership roles you've taken on; and any awards you've received. Don't go overboard, though — list only the most relevant and impressive distinctions so they catch the hiring manager's eye. 
When deciding how to write a law resume, you should also make sure that you describe your accomplishments and skills using strong verbs and actionable language. Don't make the legal hiring manager guess what you've done by using vague generalities — paint a clear picture by providing specific and detailed examples of the ways in which you excelled in school or in past positions. 
4. Customize the resume to the job
Using a lawyer resume template or reusing the same lawyer resume format for every job could be a big mistake as different hiring managers look for different things based on their firm's culture and needs. Make sure to customize both your resume and cover letter for each position you're applying for so you can show you meet the employer's desired criteria. 
Use the job ad as your guide to ensure the experience you list is relevant and try to mirror back the language from the ad so the hiring manager can spot the keywords they're searching for.
5. Avoid extraneous information
Your resume should include only legal experience relevant to the position you're applying for. Avoid listing unrelated jobs, hobbies, activities, or awards that aren't directly relevant as a legal hiring manager often won't weed through the non-essential information to find details about why you're right for the position. 
Consider following this lawyer resume template
If you aren't sure where to start, this template format below is based on recommendations from the American Bar Association: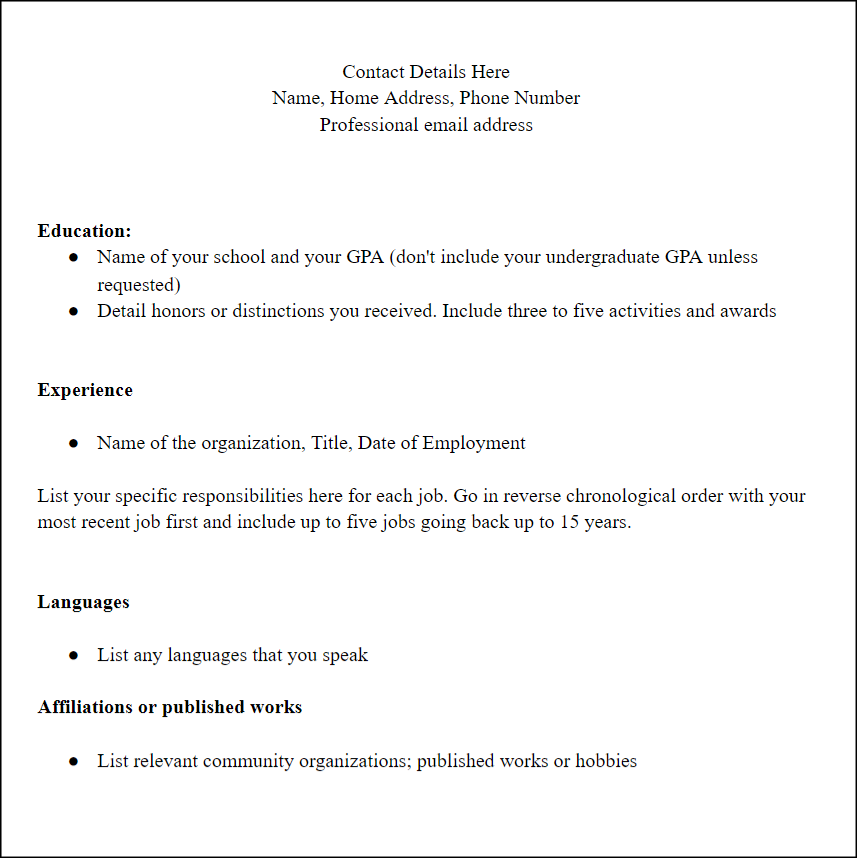 Remember, though, that a lawyer resume that stands out will be personalized and specific to your position rather than just created from a template. Take the time to highlight the skills and experience most relevant to the specific position you're looking for and you're sure to impress even the most discerning legal hiring manager.