When understanding student loans or any part of the finance industry for that matter, you'll notice similarities. One significant similarity is that all requested borrowers of a loan will have their information reviewed by an underwriter. It sounds complicated, but in reality, the guidelines of a loan underwriter's job are relatively simple. In fact, you could say that the entire application process works like that of a dating app and the underwriter is the Tinder® that will get you there.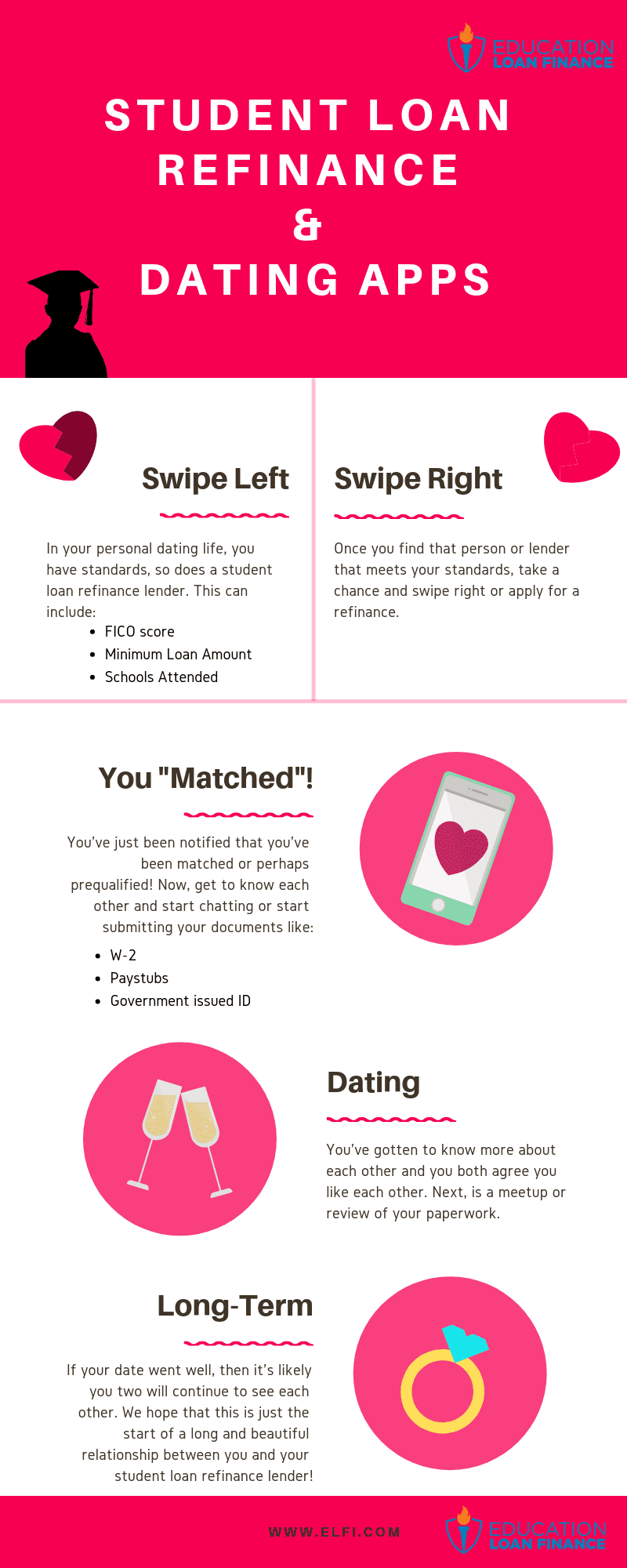 Swipe Left-
On a dating app, you're not going to swipe right on everybody. Well, we hope that you have some standards for yourself! Similarly, when applying to refinance student loans, you'll find different criteria or standards for companies. In a dating app, it's usually pretty superficial first. The same can be said for student loan refinancing data. You see, student loan refinance lenders will have mandatory requirements like minimum student debt, minimum credit score, and others like institution attended.
The guidelines are pretty straightforward at this point to determine if you could be a good fit for the lender. If you are not, at this time a good fit for a lender, keep trying! Work on that credit score, assuming it's something that can be fixed. If someone swipes left, that's okay. It's better to determine it now, than have it not work out later after you've invested significant time, energy, and emotion.
Swipe Right-
Dating and financial stability are relatively comparable. Both take a long time to build and can be destroyed with one simple mistake. To gain back stability, it could take years, but that shouldn't stop you from living your life and doing what's best for yourself. Though it can be daunting, there are times when you'll hit it off! If you "matched" with the lender you'll move on to your application process or the case of a dating app slide on into the DMs.
Getting That "Match"
Congrats, you've now moved on to the next level! You've received your notification and will start getting to really know one another. In the case of a lending institution, it can be a bit more formal. You'll likely be submitting required documents at the time of your application. These documents differ based on the lender. Documents that are typically requested include, W-2, pay stubs, and government-issued ID.
The Date
Once you've worked your way through the application form or direct messages, it's time for the date. Yes, the date! Here's where your underwriter really comes into play.  An underwriter is someone that is hired by a financial institution to evaluate requested borrowers. An underwriter reviews the information that a requested borrower submits and determines if they are a good fit. Consider the underwriter your dating app, it allows you to get to know someone and learn more about them.
In some cases, an underwriter may feel that they do not have adequate information and may request that additional information be provided. This can be common in the case of adding a cosigner, being recently employed, or other circumstances. Don't be thrown off if additional information is requested. Just like when you're messaging, and your match throws you a curve ball. If you see it through both things could work out well for you.
Long Term
If your date worked out well for you, it's likely you may want to go on another one. Fortunate for you, when it comes to student loan refinancing you can always continue to refinance your student loans through other vendors to get the best interest rate available. Once you've completed the application process and worked with an underwriter if needed, you'll either receive an acceptance or a notification with details as to why your loan was not approved. When you're dating well, there could be many possibilities. One of those possibilities could include getting ghosted. Regardless, we hope that it's the beginning of a long and happy relationship for you both!