How College Graduates Can Still Take Advantage of Low Student Loan Rates
August 28, 2020
If you went to college before the 2020-2021 school year and took out student loans, you, unfortunately, have terrible luck. 
In May, the U.S. Department of Education announced it was slashing federal student loan interest rates to their lowest rates in decades. The changes aren't retroactive, so if you took out student loans before July 1, 2020, you're stuck with the higher rate you agreed to when you signed your promissory note. 
If that feels unfair, there is a workaround: student loan refinancing.* By refinancing your loans, you can secure a lower interest rate and save money over the life of your loans. 
Current federal student loan interest rates
As of July 1, 2020, the following federal loan interest rates apply: 
Direct Subsidized and Unsubsidized Loans:

Interest rates on Direct loans for undergraduate students went from 4.53% to just 2.75%. 

Direct Unsubsidized Loans for graduate students:

The interest rate on graduate loans decreased from 6.08% to 4.30%. 

PLUS Loans:

The interest rate on Parent PLUS Loans and Grad PLUS Loans went from 7.08% to 5.30%. 
If you took out loans even a day before July 1, 2020, you have a much higher rate, and the federal government doesn't offer any way to take advantage of the lower interest rates. 
The impact of these rate differences can be significant. 
For example, let's say Laura went to college during the 2019-2020 school year and took our Direct Unsubsidized undergraduate loans. She borrowed $15,000 and had a 10-year term at 4.54% interest. By the end of her repayment term, she'd pay $3,681 in interest charges. 
Laura's friend Jennifer is going to college during the 2020-2021 academic year. She also will take out $15,000 in student loans, but she qualifies for a 10-year loan at a reduced rate of 2.75%. At the end of her repayment period, she'll pay just $2,174 in interest charges. The reduced interest rate allows Laura to save over $1,500.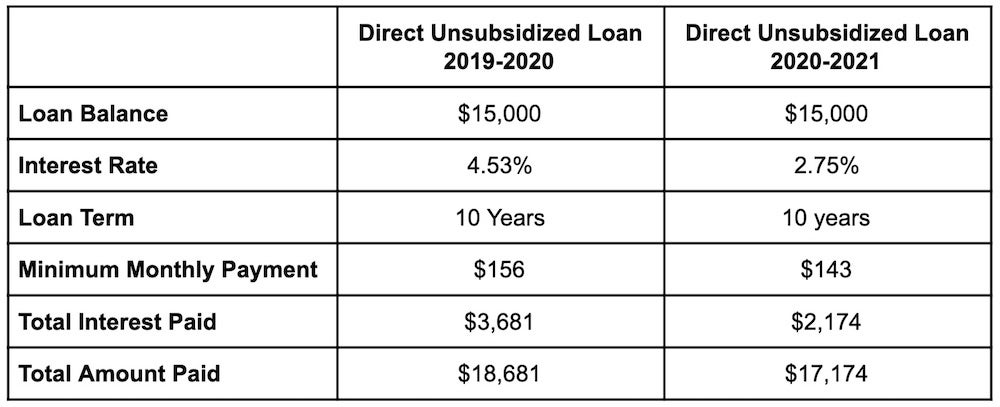 How to lower your interest rate with student loan refinancing
If you have an older federal student loan and want to lower your rate, student loan refinancing may be a solution for you. 
With the Federal Reserve slashing rates and the London Interbank Offered Rate (LIBOR) at a record low, you can get a low variable or fixed-rate loan. Fixed-rate loans tend to follow the trend of the Federal Reserve. As interest rates are reduced, fixed-rate loans usually follow suit. 
With variable-rate loans, private lenders typically use LIBOR to set their rates. Private lenders will base their rates on the LIBOR plus their margin. Since the LIBOR can fluctuate over time, your variable interest rate can change, too. 
Right now, the LIBOR rate is much lower than it was even six months ago. If you refinance and opt for a variable-rate loan, you could dramatically lower your interest rate. 
Refinancing interest rates are at historic lows for fixed and variable-rate loans, so now is a great time to refinance your debt if you want to get rid of high-interest debt. 
How student loan refinancing works
When you refinance, you apply for a loan from a private lender like Education Loan Finance. Unlike federal loans, which typically don't require a credit check, private refinancing lenders base their decisions off of your creditworthiness and income. 
If you have good credit, you can qualify for a loan at a competitive rate. If you have less-than-perfect credit, you can still refinance your debt. You'll just need a cosigner with good to excellent credit to apply for the loan with you. 
Refinancing has multiple benefits:
1. Save money
When you refinance and qualify for a lower rate, you can save a substantial amount of money. 
Use the student loan refinance calculator to find out how much you could save by refinancing your loans.* 
2. Consolidate your debt
To pay for college, you likely had to take out multiple student loans. You may have a mix of federal and private loans and have different loan servicers, monthly payments, and due dates to manage. Juggling multiple loans can be confusing, making it more likely you'll lose track and miss a payment. 
When you refinance your debt, you'll consolidate all of your loans into one. Instead of having multiple loans and due dates, you'll have just one loan and one easy payment to remember. 
3. Reduce your monthly payments
When you apply for student loan refinancing, you can qualify for a lower interest rate. But, you can also change your loan term. If you decide to extend your loan term, you can reduce your monthly payment and get more breathing room in your budget, a valuable benefit when you're getting your career off the ground. 
Later on, when you're more established and making more money, you can make extra payments and pay off your debt early without paying a prepayment penalty. 
How to refinance your loans
Refinancing your loans is a simple process; You can get a rate quote from ELFI online without affecting your credit score.* Once you find a loan that works for your needs, you can finish the application process online. 
If you need help or have additional questions, call ELFI to speak to a Personal Loan Advisor at 844-601-3534. 
---
*Subject to credit approval. Terms and conditions apply.
Notice About Third Party Websites: Education Loan Finance by SouthEast Bank is not responsible for and has no­­­ control over the subject matter, content, information, or graphics of the websites that have links here. The portal and news features are being provided by an outside source – the bank is not responsible for the content. Please contact us with any concerns or comments.