International Women's Day, recognized on March 8, is a day to celebrate women's achievements and work toward a more equitable society. Everyone can participate in this special day – whether you volunteer with a local organization, educate yourself and others about gender parity, or simply say "thank you" to the important women in your life, there are so many ways to join in.
How Did International Women's Day Get Started?
Although the Women's Rights Movement began in the 19th century, the United States celebrated the first official National Women's Day in 1910. Over the next several decades, more and more countries adopted this holiday, which we now recognize as International Women's Day.
Today, the holiday is widely celebrated. For more information and resources, visit the official International Women's Day website.
Celebrate International Women's Day With ELFI
To celebrate this special day, we asked three of ELFI's female leaders to share a piece of advice that's helped them to succeed. Their responses offered steps each of us can take to succeed, both at work and in our everyday lives. Here's what we learned: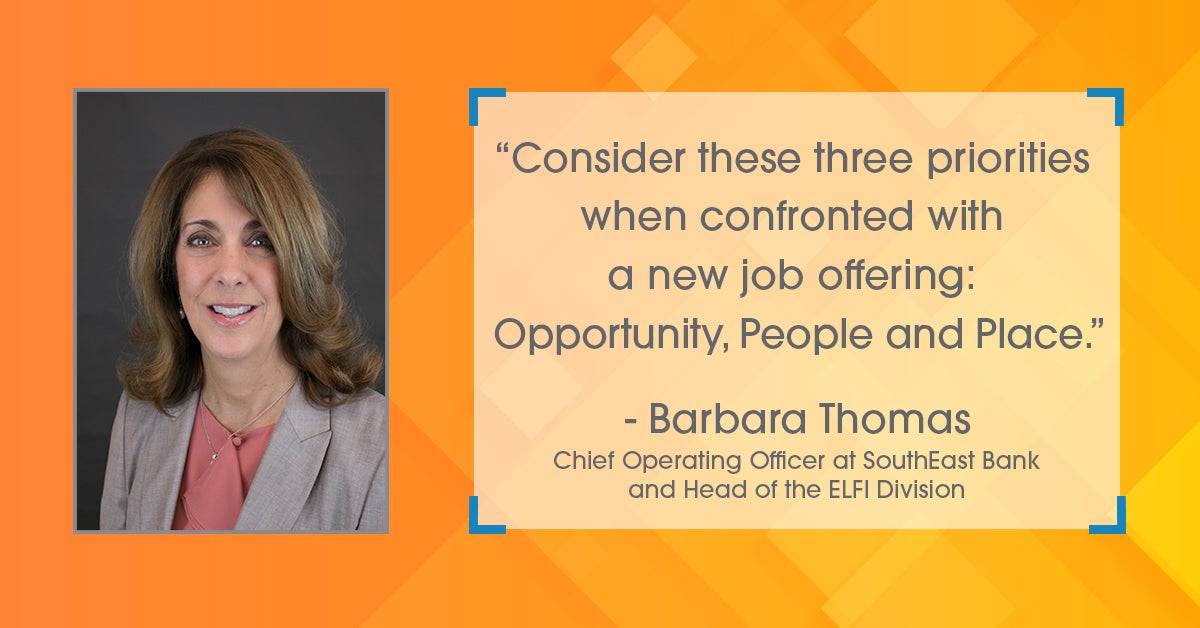 Barbara Thomas, Chief Operating Officer at SouthEast Bank and Head of the ELFI Division
Prioritize opportunity, people and place.
The one piece of advice I would have for young women who are embarking on a new career or a career change is to consider these three priorities when confronted with a new job offering:
Opportunity: Does the job offer the opportunity to expand your skillset and expertise as well as enhance your knowledge base? Make sure that you remain on a career trajectory that rounds out your CV.
People: Do you stand to learn substantially from the professionals you will be working with, does their experience complement the expertise you hope to gain and will there be strong networking opportunities?
Place: Is it a nurturing work environment, is there a strong mentoring platform and is it the right place for you? This is especially important because you will be spending most of your waking hours with your work colleagues. One of my favorite quotes is "Success is not measured by the destination but the quality of the journey."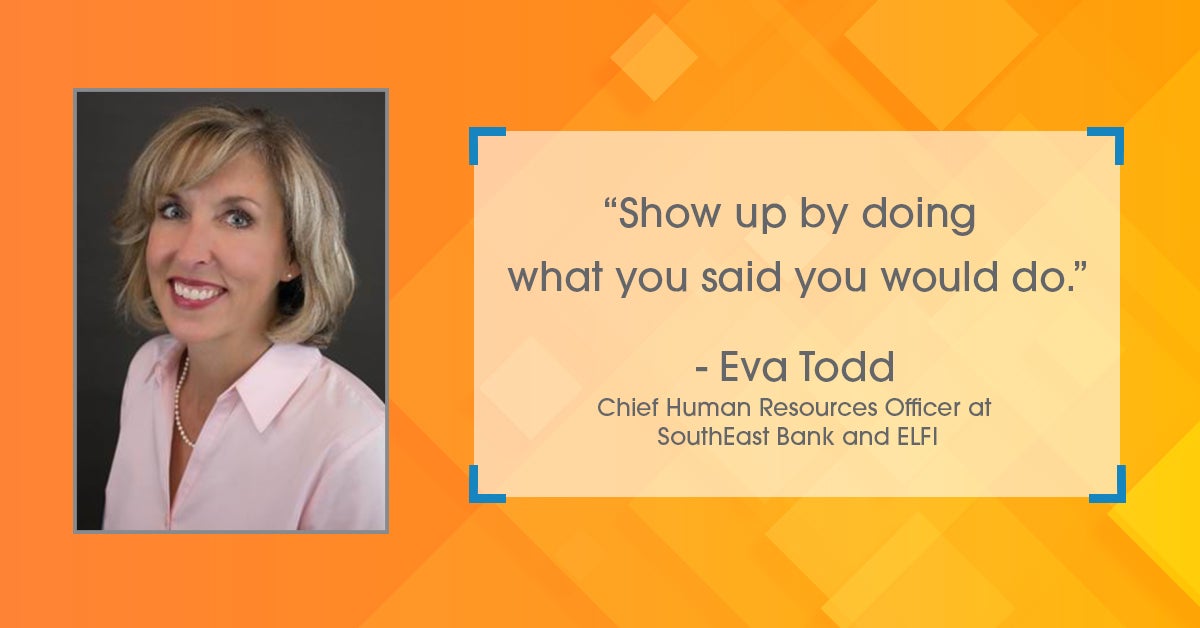 Eva Todd, Chief Human Resources Officer at SouthEast Bank and ELFI
Show up.
Show up by doing what you said you would do. Often, either at work or in life situations, there are expectations placed upon us. Showing up and taking our responsibilities seriously is the first step toward building others' trust in us and respecting ourselves. You'd be surprised how often people get noticed by just showing up!
Ready to take it to the next level? Arrive on time (or early) and prepared to fully participate.  This entails planning ahead, anticipating what will be needed and fully engaging in the conversation or activity.  You'd be surprised how often people help themselves by showing up whole-heartedly and prepared.
One final step. Choose your attitude and how you will "show up."  This has to do with presuming good intent when relating to others. When I give others the benefit of the doubt, I approach my interactions with them differently.  For example, if I believe they want to do a good job, then I behave differently toward them than if I believe they're planning to ruin my day. You'd be surprised how people positively impact situations by choosing to show up with a positive attitude and presuming good intent.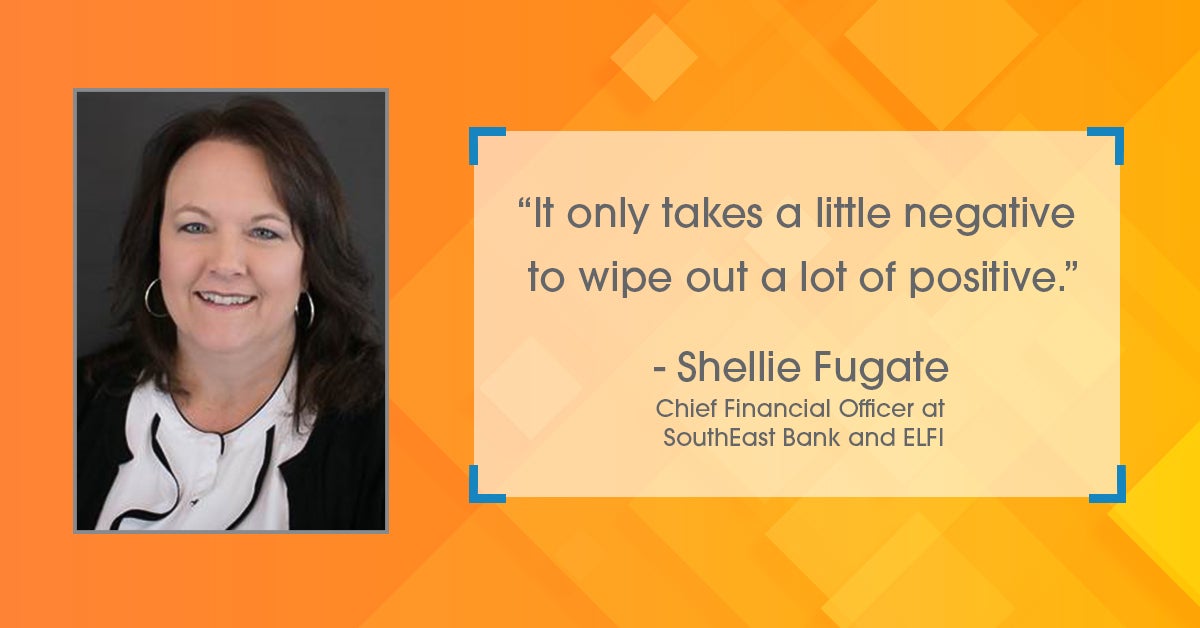 Shellie Fugate, Chief Financial Officer at SouthEast Bank and ELFI
Focus on the positive.
Narrowing it to only one piece of advice is difficult since many people who have crossed my path have shared insight. However, the most enduring is that "it only takes a little negative to wipe out a lot of positive." Always look for the good and focus your attention on that direction.
Bottom Line
There's no doubt that women can do anything – from excelling in their careers to caring for their families, and their accomplishments deserve to be celebrated every day. International Women's Day is an important time to recognize these successes and support initiatives that promote gender parity.