Benefits and Savings of Completing College Early
April 1, 2019
Last Updated on June 14, 2021
People usually think of completing college in four years as a typical timeline. In reality, many undergrads find that working in the summer or studying abroad can add extra time to getting their degree. According to the NY Times, only 19% of college graduates at public universities finish a Bachelor's Degree in four years. Most experts use the timeline of six years to complete a Bachelor's and three years to complete an Associate's Degree. There's nothing wrong with taking more time, but there are advantages to getting college completed early. Here are some reasons you may want to take an extra class each semester or stay on campus for summer classes to finish early.
Less time in school means less money spent on college.
Think about the extra fees you pay each semester. From parking permits, recreation center fees, and fees charged per department. The longer that you're in school for, the more you will end up paying in fees. Taking more classes at once won't save you on overall tuition necessarily. Taking more classes will lower the amount you're paying for being in school, over time. Plus, tuition has the tendency to go up over time, and rarely goes down. Therefore, taking more classes now could save you on tuition in the long run since you'll avoid rate hikes.
The cost of college will depend on the type of college you attend. The cost difference between public school and private schools may be surprising. When looking at the cost of public schools whether a college is in-state or out-of-state from your current residence will also play a role in the cost. We broke down the cost of college into three separate categories public in-state, public out-of-state or (public OOS) as can be seen below, and private. We calculated the costs for a 4-year completion, 5-year completion, and 6-year completion. These costs were based on averages provided by Value Penguin.
The below graph shows what the cost for 6 years of school will ultimately cost the borrower at each of these three types of colleges. The cost of a private college for six years equates to the cost of a Rolls Royce Wraith. Just to put that in perspective for you, Gwen Stefani the previous singer of the band No Doubt owns this car. It's important to understand if something like studying abroad will set you back a semester or not. Yes, studying abroad is a great experience, but are you prepared to tackle the debt that may come along with delaying your academic career?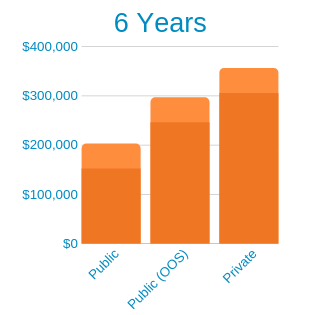 6-Year Costs of College
Public In-State School – $172,277.15
Public Out-Of-State School – $266,177.15
Private School – $325,937.15
The overall cost of college can seem overwhelming, but it's important to understand what you're spending by staying in school longer. It will help you to understand if the cost of an education is worth the field that you are studying to enter into. In addition, the college that you choose will have an impact on what you have to pay to achieve that education. For example, if it takes you five years to graduate there could be a price difference of about $128,050.00. The cost of college really is impacted by the type of school you choose in addition to the amount of time you spend there.
5-Year Costs of College
Public In-State School – $142,255.75
Public Out-Of-State School – $220,505.75
Private School – $270,305.75
It's tough these days to graduate from college in 4 years, but it's still doable. If you work closely with your counselor and study hard you'll be on the right track. If you need summer classes they are typically available as well.

4-Year Costs of College
Public In-State School – $112,799.70
Public Out-Of-State School – $175,399.70
Private School – $215,239.70
If you enter college determined and know what you want to do, it will save you a decent amount of money. The difference between graduating in four and six years can be extreme in some cases. Below is an illustration of the cost difference between four and six years. Notice the cost difference specifically between a public out-of-state school and a private school.
Cost Difference Between 4 Years & 6 Years
Public In-State School – $59,477.45
Public Out-Of-State School – $90,777.45
Private School – $110,697.45
One of the most important parts of preparing for college is understanding how you will pay for it, how long you'll be in school for, and if you can graduate early. If you have the ability to graduate early you should certainly consider it. At the same time, it's important that you don't overwhelm yourself.
Get to work, work, work, work, work.
It's hard to apply for a job and commit to a typical work schedule when you're still in school. If you can work throughout school and put contributions to your loans that is a great thing to do. If you can't work at a traditional job, that's okay too, but be sure that you are doing all the work you can to finish early. Completing your degree earlier can give you the ability to start looking for a job in your career field earlier. That extra year or two of working at a professional career job will put you at an advantage.
Bring home the (much better) bacon.
With your degree completed, it's likely that you'll qualify for higher-paying positions in your field. If you already have a job that you like and want to stay with the same company, chances are you'll be worth more once you've got that degree in your hand.
Find more time.
When you're done with school, you'll have more time to work, build your resume, or balance commitments with life. Lots of students experience burnout, especially when they're working while going to school, or taking a heavy study load. Add things like internships and clubs to that list and it just sounds overwhelming. Post-college, you will likely have more time to balance working, taking care of yourself, and pursuing other hobbies. Working full-time is still a commitment, but compared to working, taking 18 credits, and being in a student org. graduating might feel like a relief to your schedule.
Spend less money on college living.
It might make sense to have a meal plan or live on campus while you're in school. Be aware those things are notoriously more expensive than how the rest of your community probably lives. By getting a shared apartment with friends or other young professionals, meal planning each week and doing your own shopping – you can usually save money.
Have more control over your schedule.
You know how it goes with classes. Sometimes you try to fit all of your classes into two days so you can have more free time. Try using your free time to work or study on days off. Coming across a required class that doesn't pair with your schedule can ruin a lot of possibilities. By graduating, you'll have fewer of those college-imposed restrictions on your time.
Get on with adulting!
Sure, many of us joke about the downsides of adulting, but it's also nice to pick where you live and what you do. You can make choices like how to budget and what your financial and personal goals are. If you're in a relationship, you can decide together what the next chapter holds or start making bigger plans together. If you're unattached, you can go anywhere and don't have to worry about credits transferring. The world is your oyster!
There are some instances where it absolutely makes sense to slow down your progress toward a degree. It's okay if you need to take more than the typical two- or four-year (or even three- or six-year) track. Working parents or non-traditional students may find they can comfortably handle a half-time load with their other commitments. A full-time course schedule may be impossible to maintain for them. If you're already working in a job that you like and are getting reimbursed for school, going at a slower pace could actually put you at a tax advantage. Not to mention some people take fewer classes at a time so they can pay more out of pocket and take out less in student loans. You should choose what works for you and helps you progress toward the ultimate goal of getting the education to support your dreams. Just make sure you have a plan that works for you and keeps you motivated to graduate!
NOTICE: Third Party Web Sites
Education Loan Finance by SouthEast Bank is not responsible for and has no control over the subject matter, content, information, or graphics of the websites that have links here. The portal and news features are being provided by an outside source – The bank is not responsible for the content. Please contact us with any concerns or comments.