Student Loan Facts 2018
June 6, 2017
Last Updated on December 4, 2020
For most people in the United States, the cost of going to college represents a huge financial burden. The Federal Student Aid Portfolio Summary, issued by the office of Federal Student Aid and quoting data provided by the National Student Loan Data System (NSLDS), states that as of Q3 2018 approximately 42.2 million people hold outstanding principal and interest balances on federal student loans. These loan types include Direct Loans, Perkins Loans and Federal Family Education Loans (FFEL).
It is important to know the facts about student loans before borrowing. The statistics overwhelmingly point to a growing debt problem. According to the Federal Reserve System, the amount of student loan debt increased by 5.6% in Q3 of 2018, when compared to Q3 of 2017. That may not sound like much until you discover this amount equates to roughly $83,482.32.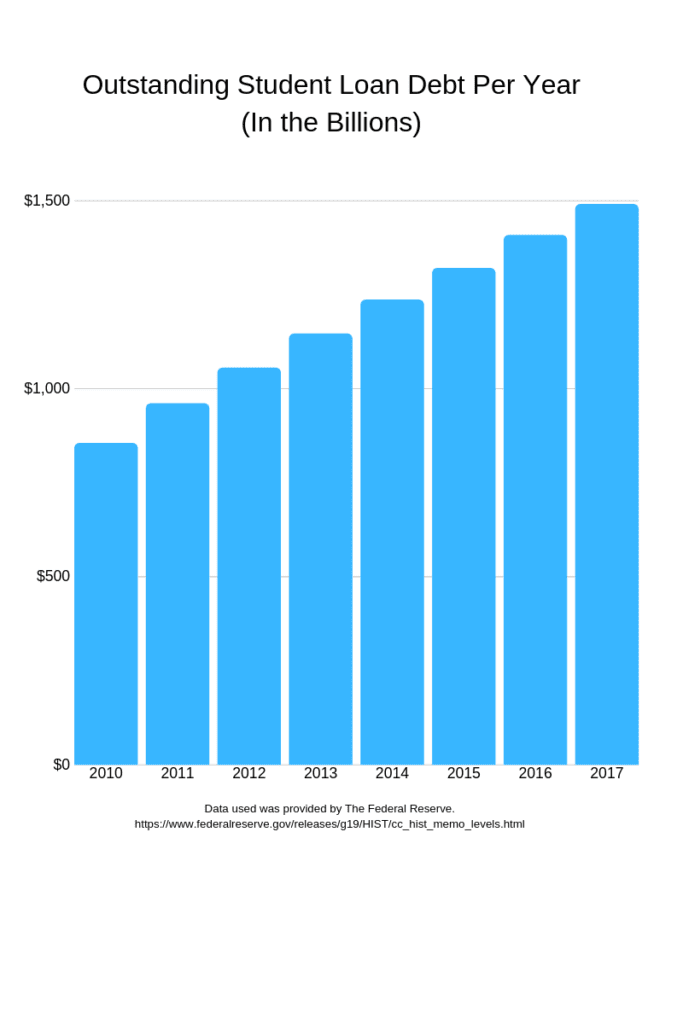 The facts do not get any easier to digest for college students in 2018. Whether they attend public or private universities, many students rely on loans for tuition and other expenses. If you are among the more than 42 million borrowers with outstanding student loan debt in the U.S., you might be interested in ways to save, such as through student loan refinancing.
Here are some of the latest statistics to be aware of.
According to a report issued by the Federal Reserve System, student loans in the United States currently account for approximately $1.5 trillion in debt.
According to the Federal Reserve data, student loan balances increased in 2017 by about $1,490 billion or 5.8%.
The data also shows that there are about $84 billion dollars in default.
According to Student Debt Relief, there is about $106.5 billion borrowed for student loan debt each year.
As noted above, debt associated with federal student loans accounted for nearly $1.5 trillion as of Q3 2018. According to the Federal Student Aid Portfolio Summary.

Average Student Loan Debt Borrowed Per Year
Outstanding interest and principal balances for Q3 2018 are as follows:
Direct loans – 33.3 million borrowers, representing $1,116 billion
FFEL loans – 13.8 million borrowers, accounting for $288.6 billion
Perkins loans – 2.4 million borrowers with roughly $7.4 billion owed
Stafford subsidized loans – 29.1 million borrowers distributed among $274.2 billion, according to the office of Federal Student Aid Portfolio by Loan Type.
Stafford unsubsidized loans – 28 million borrowers, whose loans total $477.8 billion.
Debt management programs get a lot of attention these days. Given the student loan facts, you can see why. It's important to note that a majority of student loans are in repayment.
The Direct Loan Portfolio by Repayment Plan report issued by the office of Federal Student Aid shows that several million borrowers with direct loans were in the process of repaying their loans as of Q3 2018, including
10 Years Or Less – 11.12 million borrowers with a level repayment plan, owing about $205.1 billion
More Than 10 Years – 1.69 million borrowers with a level repayment plan, owing about $76.4 billion
Income-Based Repayment (IBR) Plans – about 2.85 million borrowers, owing about $168.5 billion
According to the Direct Loan Portfolio by Delinquency Status report from the office of Federal Student Aid, as of Q3 2018, approximately 3.35 million borrowers had loans in default, with loans totaling about $89.6 billion not yet being repaid. Of that default amount, a little under a million loans are so delinquent as to have been transferred to the Debt Management and Collections System (DMCS). According to this report, about 16.02 million borrowers with direct loans are current on payments, representing an estimated $570.5 billion in debt.
Federal vs. Private Student Loans
According to Student Debt Relief, students borrowed about $125.6 billion in non-federal and federal student loans in the 2010-11 academic year, a number that has fallen to $106.5 billion by the end of the 2016-17 academic year. The drop in money borrowed can possibly be attributed to fewer students attending college. In 2011 16.63 million students enrolled in college, but by 2016 that number had also fallen to 15.74 million in 2016. Fewer students enrolling in college could be the reason for the drop in money borrowed.
Debt vs. Type of School
According to the Federal Student Aid Portfolio Summary, of those who attended a Public institution 24.9 million students borrowed loans and 13.5 million students borrowed loans from a private institution in Q4 of 2018.
Student Loan Debt Trends
Student loans are not limited to undergraduates. An increasing number of individuals pursuing graduate and professional degrees are borrowing for graduate programs on top of what they already owe for undergrad degrees, according to statistics revealed in "The Graduate Student Debt Review," published in 2014 by the New America Foundation Federal Education Budget Project.
If you combine undergraduate and graduate debt based on degree, the average MBA graduate owes $51,000, a Master of Education grad owes $50,879, a Master of Science grad owes $50,400, a Master of Arts grad owes $58,539, a Law grad owes $140,616, and a Medicine and Health Sciences grad owes $161,772.
The bottom line is, if you are borrowing, then know student loan facts. You can get all the details from lenders or the Federal Student Aid website, an office of the U.S. Department of Education. Finally, review the payment terms and repayment plan options for any student loan you're considering, including student loan refinancing alternatives, so you can choose a loan that best suits your income bracket, finances, and lifestyle.
NOTICE: Third Party Web Sites
Education Loan Finance by SouthEast Bank is not responsible for and has no control over the subject matter, content, information, or graphics of the websites that have links here. The portal and news features are being provided by an outside source – The bank is not responsible for the content. Please contact us with any concerns or comments.